El año pasado, por estas fechas, estaba viviendo el sueño de pasar una temporada en una de mis ciudades francesas favoritas: la bella Burdeos.
Cada mañana, de camino a la escuela de idiomas, bordeaba el río Garona y pasaba por delante de la fuente más emblemática de la ciudad: Le Miroir d'eau. En las tardes de verano, el espejo de agua se llena de visitantes (de dos y cuatro patas) que caminan entre la bruma fascinados con los reflejos, el frescor, la luz…todo un espectáculo para los sentidos.
Aquí, una humilde aportación fotográfica, en homenaje a mi paso por la capital francesa del vino.
Toronto has welcomed the new year with the thermometers at -20º C, feeling like -30 with the wind chill. The City issued an alert for extreme cold, but for some Torontonians this is nothing but the real taste of winter.
Morfi Jiménez and Carolina Cardich review the photograms done by the participants in Verte MirArte project in Villa María del Triunfo, Lima.
Versión en español aquí.
Original text by Miguel Máiquez. English translation by Alexandra Charles. Photos by Gloria Nieto.
Verte MirArte project, based on the old 'pinhole' cameras, helps children in a disadvantaged area of Lima to make the most of their abilities. The project's name is a play on words that can translate into English as "See yourself Look at yourself (and art)".
"We do not share the idea of the 'I can't'. Everything is doable. The key is to recognize our capacities, and activate our inner gaze to discover our natural abilities". With this idea in mind, the Peruvian photographer Pilar Pedraza launched the project Verte MirArte about two years ago. The initiative's purpose is to open future doors for a group of children between the ages of six and fourteen, who live in the Limenean district of Villa Maria del Triunfo, which is a disadvantaged area of the Peruvian capital.
View of the area where Verte MirArte project is located.
Pilar Pedraza and participants in Verte MirArte project review some materials at the entrance of the dark room in Villa María del Triunfo, Lima.
The project, carried out together with the photographer Morfi Jiménez, is an example of how far one can go using just what is available on hand, as simple as these things may be. And it is, above all, a fascinating journey to the origins of photography in order to remember that, in the end, taking photographs is not just the act of looking, but requires looking out as well as within.
In Verte Mirarte, children work with pinhole cameras, which are simple dark boxes with only a small hole where the necessary light can enter inside so that, as if by magic, the world can be captured. Because the world is outside but, sometimes, it is necessary to look at it from within to discover our place in it, Pedraza insists that the aim is to actively awaken the children's internal gaze, enabling them to discover their own potential.
Participants in Pinhole Festival of Lima, organized by Pilar Pedraza, take a photograph with a home-made pinhole camera.
A photo taken with a pinhole camera by children of Verte MirArte project (left) and a positive print of that same picture (right).
The whole philosophy of the project is based on only working with whatever materials the children have at their disposal. "The pinhole cameras are perfect for what we are trying to do here, because we can cover the entire process with the kids, from the fabrication of the cameras to the final result, going through technical aspects like composition, control and exposure", indicates Pedraza. "It's about not only awakening the senses in the boys and girls and to have them discover their own environment, but that each one experiences self-discovery as a unique person with his and her own view".
About a dozen children participate in the project and meet in the neighborhood with photographers once a week. "Every Tuesday afternoon they eagerly await us, ready with the pinhole cameras that they constructed themselves", indicates Pilar. "And the best thing is that often artists and professionals from different fields accompany us and talk with the children. They tell them what they do and, above all, give them their friendship". Many of these guests have even given workshops which, in the words of Pedraza, "help us not only to learn but also to keep us awake". Others collaborate with donations, ranging from photographic paper to enlargers for developing.
A participant of Verte MirArte project heads to the weekly meeting in Villa María del Triunfo, Lima.
In the dark room that Verte MirArte has in Villa María del Triunfo, a child develops a photogram made out of handy materials such as leaves, sticks, bottle caps, etc.
The idea of Verte Mirarte was born during a cultural project workshop offered by Claudi Carreras, curator of art, photographer and professor at the University of Barcelona. "Carreras asked us- the participants of the workshop- to create a photographic project linked with society", recalls Pilar. "I presented the project in my exhibition, and he simply said: 'Do it'. So we did it."
Since then, the project has become a reference for the children of Villa Maria del Triunfo. "We are a team, that's the important thing," stresses Pedraza. "During all this time, we have become aware of who we are, individually and as a collective. We are a group based in union, in discovering and respecting ourselves, and moving little by little towards our dreams with determination, devotion, effort and optimism. We have been realizing all that can be achieved when you take the step and you really get to doing the things that you can do".
In its short life, Verte Mirarte has already made some important achievements, from the creation of scholarships for art workshops at the school of design in Lima, called Corriente Alterna, to having been finalists in the photography contest of the municipality of the capital. The children have exhibited their work in several galleries in the city; they were invited to a pinhole photography exhibition in Monterrey, Mexico; they have participated several times in FoliLab (with Lima's Museum of Photography) and even set up the first 'pinhole' festival in Lima. "We already have a logo, made by two great Peruvian designers, and now the children are even learning magic, with the Peruvian magician Claudia Pacheco", explains Pilar.
Verte MirArte's logo.
A participant of Verte MirArte plays with his pinhole camera during Lima's Pinhole Festival, in April 2012.
Beyond exhibitions and scholarships, however, Pilar understands "the important thing is that the children get to know and recognize themselves as people full of abilities; that they begin to feel that, with effort, they can achieve what they set their minds to".
It is the case, for example, of 14-year-old Fidel, as Pedraza proudly tell it, "He is now beginning to see life from the perspective of his own dreams". Fidel, one of the participants in the project, is studying English, has won a camera in a photography contest, has been able to enroll himself in several courses and is participating, with the rest of the group, at FoliLab. Thanks to his presence in the museum, the boy was interviewed on the radio, where he took the opportunity to present his rap compositions. A producer heard him and has helped him to record his first song. "A complete success!" said Pilar. "The best is that Fidel took advantage of these opportunities and has already recorded a second music track on his own. He will also exhibit his pinhole works at the show to which we are invited in Mexico and, before, was working and selling film shots for Christmas, along with his father," she adds.
One of the most exciting moments in the trajectory of Verte Mirarte had to do with the prestigious Spanish photographer Chema Madoz. "Chema is our inspiration", explains Pilar. "We were always reviewing his books and thinking, with the children, that perhaps one day we will have the opportunity to meet him. Then one day, in a workshop taught by Alejandro Castellote, I presented the project, spoke of our admiration for Chema, and he told me: 'We have to bring him!' Knowing that Alejandro was his friend, we took advantage and sent Chema a video of the children with his book, sending him our regards from Peru. We also sent him a dedicated pinhole photo, with some pictures of the children working. Then, later on, when the public Spanish television (TVE) proposed to Chema to make a video of his monograph, he told them to include the video we sent him. It was the best!"
I recently participated in the 64th edition of the Missouri Photo Workshop, a one-week intensive workshop for photojournalists that this year took place in a town called Troy. Every year for six decades the workshop has visited a small town in Missouri to document everyday life and capture the fascinating stories of the individuals and institutions that form the core and soul of the community.
The workshop focuses on the fundamentals of researching, shooting, and editing while emphasizing ethical practices.
During the week I had the pleasure to meet and learn from a lot of amazing photographers, including Dennis Dimmick and Randy Cox, who did a great job as faculty members.
The story I worked on is called Teresa's Independent Life, and depicts the daily life of a woman with mental disabilities living independently with two other disabled women, with the aid of life skills coaches that guide them through their daily routines. Despite the difficulties Teresa finds to do things we give for granted, she is a pretty happy woman who enjoys giving back to her community doing volunteer work for several organizations. From here I thank her, her housemates and the staff at Community Opportunities Center for their patience and generosity.
Note: Special thanks to Evelyn Luecke for her invaluable support during that intense week.
John Cleese, one of the leading forces behind Monty Python, offered in 2009 this interesting talk on creating the right conditions for creativity. I hope it will inspire you (and me!).
Beneath the foothills of the Atlas Mountains in the city center of Marrakech lies Jemaa el-Fna, a famous UNESCO recognized city square. At night, it turns into one of the world's busiest open air restaurants, where food is prepared hot and fresh everywhere along the lines of countless food stalls. Beneath the flickering light of kerosene lamps, fires are built in charcoal grills, and fresh meats and vegetables are laid out for inspection. Djemaa el Fna is a great place to sample a good selection of Morocco's traditional food and gain insight into Moroccan culture.
The following pictures where taken during a short trip to Morocco in November 2011. I hope you enjoy them.
Versión en español aquí.
Text by Alexandra Charles
Jason Mori, archives manager, holds a glass plate negative at BNP, Lima.
Resting silently in a chilly room kept at 20C within the bowels of the Peruvian National Library (BNP), lay remains of Peru's past. There are several rows of metal shelving units in this room, keeping hundreds of small boxes in order. Inside the boxes are thin sheets of glass neatly enveloped by white papers. And saved on these sheets of glass are moments from Peru's past, kept frozen in time.
The man behind many captures of late 19th century Peru was Eugène Courret, a French photographer who, in 1863, opened up Lima's first photography studio at the Jirón de la Union with his brother Aquiles. The brothers' studio, "Fotografía Central", generated around 157,000 negatives during the studio's 72 years in operation, which is a great testimony of the time.
Self-portrait of Eugène Courret, 1886.
We see the images come to life like magic as the archives manager, Jason Mori, slowly raises the piece of glass up towards the ceiling lights. Instantly, we are transported to the late 19th century: an empty dirt road in downtown Lima (a rare thing to ever see nowadays), while another glass reveals two rows of a dozen men dressed in the finest attire of the time.
Jason Mori, archives manager, holds a glass plate negative at BNP, Lima.
Eugène Courret photographed various aspects of Lima: from city streets to high society families and prominent people such as Alfonso Ugarte, Admirals Grau and Du Petit Thouars, Ricardo Palma, etc. He also photographed 'everyday people' like soldiers, artists, and vendors. Notably, as well, were his photographs during historical events like the wars with Spain and Chile and the Chilean destruction of the cities of Chorrillos, Miraflores, and Barranco.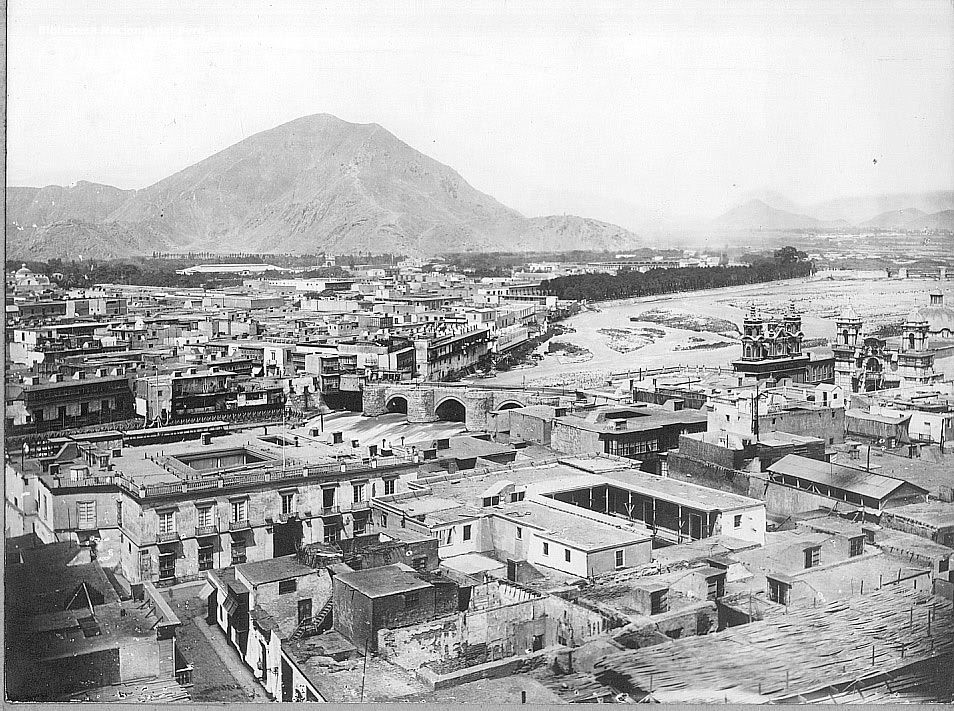 Central Lima: Rímac river and Cerro San Cristóbal. (Fotografía Central).
Old album with hand-painted photographs from the Courret Archives. BNP, Lima.
The studio was shut down in 1935 due to a decline in the demand of services; the major clients- illustrated magazines- were slowly going out of business and furthermore, instant cameras were being introduced to the masses and led to an interest of the public to make photographs on their own.
Main façade of Courret brothers' studio at Jirón de la Unión street, Lima.
What remained after the closure of the studio were the Courret archives. These treasures were handed over to employees of the studio (like Carlos Renjifo) as a form of payment, and over time have been passed down in their families. Since 1986, the archives have been conserved in the National Library, when the State acquired 54,000 glass negatives as a donation from the Renjifo family.
Folders containing photographs at the Peruvian National Library, Lima.
For those interested in time traveling into Peru's past, they need only visit the National Library. The visual records of times long forgotten lay there today, well taken care of, and just waiting to be discovered.
Published in El Popular, Toronto, 25/04/2012


With the support of organizations like Canada's Cuso International, Movimiento Manuela Ramos has been working with Peruvian women for more than three decades, in a constant struggle to overcome social, economical and political discrimination.
Miguel Máiquez. Toronto / Lima.- Combating violence against women, giving sexual and reproductive health workshops, providing legal advice, supporting economic development through micro-credit, promoting  political participation … Movimiento Manuela Ramos has been working for more than three decades with and for Peruvian women, fighting for the recognition of their rights, assuming its wide diversity in terms of ethnic, ideological and cultural background and, ultimately, questioning the legitimacy of the social, political and economic structures that maintain (or, as they like to say "try to maintain") women subordinate.
Gloria Nieto, a Spanish photographer and graphic designer living in Toronto, has just spent three months in Lima working side by side with "Las Manuelas," as the members of this organization call themselves. She is working through Cuso International, an international development agency that sends skilled volunteers to over 30 developing countries.
Nieto has led photography workshops for women from disadvantaged areas of the capital and developped campaigns so the work of the movement can reach as many people as possible. Like many aid workers worldwide, Nieto has tried to make a contribution, while she has had the opportunity to see and experience the realities of a South American city first-hand.
If you had to sum up in three words your experience as a Cuso volunteer in Movimiento Manuela Ramos, which three words would you use?
Satisfaction for the work done, excitement for being part of a project that helps improve people's lifes, and inclusion, because of the friendly welcome given by the Cuso team in Peru and by Movimiento Manuela Ramos.
In your work, you have used photography not only as a means to depict reality but also as an opportunity for learning…
Yes, one of the things that we are encouraged to do as Cuso International volunteers is to promote a knowledge exchange, through workshops, lectures or didactic materials. In this way, our collaboration can continue beyond our placement duration in the country. That exchange happens to be two-way because you, as a volunteer, learn a lot from your counterpart as well, not only in a professional but also on a personal level. In my case, I had the opportunity to give a course of basic photography, and the experience was very interesting.
In your opinion, what are the main challenges and problems for women living in disadvantaged areas of a city like Lima?
Peruvian women, just as women everywhere, suffer from discrimination in the social, political and economic sphere. The program in which I am working with my colleagues of Movimiento Manuela Ramos is called "Right to Live Without Violence," and its mission is to eliminate domestic and sexual violence. This is done through legal assistance for cases of violence, training, specialized advising for prevention, as well as public awareness and outreach activities.
Sexual and domestic violence is, without a doubt, a major social problem in Peru, a country where every month, ten women are murdered by their partners, ex-partners or relatives.
What brought you to contact Cuso?
I wanted to use my skills as a photographer and graphic designer to help a cause that I could identify with, and Cuso International gave me that opportunity through their volunteer placement program.
What has been the most satisfactory thing of your work?
The feeling that I am putting in my two cents to improve the living conditions of a disadvantaged community.
And the most difficult?
Given that my placement is a short-term one– just three months- developing a work plan that would include all I could do in my stay in Peru, has been challenging. It hasn't been easy to work out how long every activity is going to take and fit it in a timeline but, in the end, we have been able to figure out a way to do it, and it worked out well!
————-
I hope you'll join me in supporting the important and inspiring work of Cuso International by making a contribution to my personal fundraising page.
Thanks to Alexandra Charles for the translation.
My Flamenco photos keep dancing around Toronto! During the month of June, drop by Don Mills Public Library (during business hours) to see the Flamenco Series. The library is located at 888 Lawrence Ave. East, Toronto.
If you make it to see the exhibition, let me know what you think!
Enjoy!

In Spain, Semana Santa (Holy Week) is more than just a religious festival: Processions, sculptures, embroideries, music… From the austerity of Castilla (Zamora, Valladolid) to the baroque extravagance of the South (Seville, Granada, Malaga, Lorca, Murcia), believers and non-believers live these days to the fullest in towns and cities throughout the country. The following photos are from the Good Friday procession in Murcia, famous for sculptures by Francisco Salzillo.

Versión en español